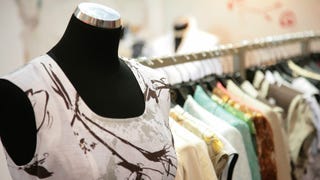 Adele's forthcoming plus-sized Burberry campaign is only one of the many factors that are leading to a new eye on mass-market retailers' plus-sized clothing, which blogs have dubbed "fatshion." For years, adult-skewed women's magazines had unchanged advice for larger women: steer away from horizontal stripes and…
Tim Burton's Alice in Wonderland isn't even released until tomorrow, but you can already dress in, adorn yourself with, carry, make yourself up with, loll around in bed wearing, and get your nails did with products tied to the movie.
Torrid, plus-sized mall-chain extraordinaire, is now moving into the wonderful world of bridal wear, all priced at the very friendly price point of $78-$220. But are the looks any good? Eh, yes and no. After the jump, I evaluate the mass-produced dresses for the supposed curvy girl on a budget.