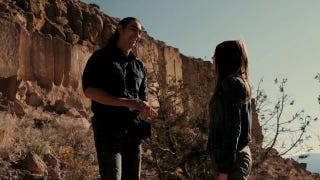 The first-ever film adaptation of a Judy Blume novel comes out TOMORROW. If you're seeing the movie in New York or Chicago, you can meet Blume after certain screenings of the film. In this sneak-preview clip, Davey and Wolf are in the tentative first stages of what will become a powerful relationship.
Judy Blume, iconic writer/patron saint to confused tweens that she is, needs no introduction. There's a pretty solid chance that you, dear reader, felt less alone in the world after reading her books, whether you were obsessed with getting your period, grappling with recently divorced parents or considering whether to…
Some new info regarding Tiger Eyes, the upcoming feature film based on the Christine O'Donnell-friendly novel by Judy Blume: Blume's son Lawrence, who co-wrote the screenplay with mum, will direct. And did you know this is Judy's first big-screen movie?
Judy Blume, who's been Tweeting about the film adaptation of her book Tiger Eyes, reports that the leads have been cast. Gossip Girl's Willa Holland will play Davey and Tatanka Means will star as Wolf.
The discussion has started on Shelf Discovery's Facebook page. Brush up on Tiger Eyes with one of the columns that inspired the book of the Facebook page, then comment here about the movie based on Judy's tweet. Multiplatform! Synergy!
Welcome to 'Fine Lines', the Friday feature in which we give a sentimental, sometimes-critical, far more wizened look at the children's and YA books we loved in our youth. This week, writer / reviewer / blogger Lizzie Skurnick reads Judy Blume's 'Tiger Eyes', the story of 15-year-old Davey, who has a new hole in her…