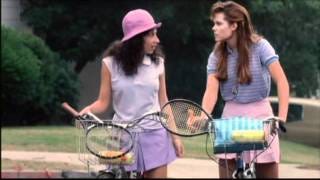 Well, this is wonderful news. The Groundlings in Los Angeles are performing Teen Witch: The Musical, what's no doubt gonna be a hilarious re-telling of the greatest movie ever stolen from my teenage dreams and made into reality.
There is no feminist subtext to Teen Witch. No class critique. Instead, this poor woman's Sweet Sixteen spiked with witchcraft should be remembered for its inexplicable yet splendid song-and-dance sequences.
Anyone who watched 30 Rock got a special surprise from Kenneth the Page: a performance of the fake rap classic, "Top That," from the movie Teen Witch. The supersonic clip is after the jump.
Ever notice how many female characters are "suffering" in Hollywood films? "She was suffering through a break-up," "the character was suffering from an abusive past," "she will play a woman who is suffering through cancer," et cetera. It seems like whenever writers want to throw some "depth" into their scripts they…