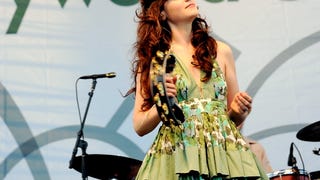 Actress/grammatically creative indie songstress Zooey Deschanel is suing footwear knocker-offer/convicted felon Steve Madden for reneging on a $2 million contract. For that sum, Deschanel would have spent 13 days "designing" and promoting a line called "Zooey's Shoes And Accessories." [NYPost]
At their wedding, the husband told his wife, "I am the alpha in this relationship," later repeating, "If you were my employee, I would fire you." Now he's a multimillionaire, and she's writing tell-alls about their divorce.
What event, pray, could bring together Barbra, Megan Fox, and Helen Mirren? Why, the Jonah Hex premiere at ArcLight Cinema. Today, it "rides into theaters in a storm of CGI dust and supernatural-inspired storytelling."