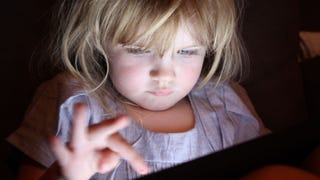 How much time should kids be allowed to stare into their screens like zombies? New guidelines issued by the American Academy of Pediatrics upturns conventional thinking on the matter, showing that a sweeping one-size-fits-all approach is not the right way for parents to go about limiting their children's screen time.
Today in YES, SEXISM EXISTS, it's the world's first tablet for women! The ePad Femme (working title: the "Awww, She Thinks She's People Magic Window to Fairytopia") is an eight-inch Android-based tablet that comes with apps pre-loaded, so as to not bewilder miniature lady-brains with complicated "downloading"…
According to the latest Nielsen data, 61 percent of e-reader owners are female, up from 46 percent this time last year. Fifty-seven percent of tablet owners are men, also slightly up, and smartphones are evenly split. What does it all mean? All I know is that I love my Kindle.