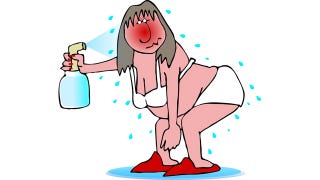 Summer can be awesome: No more heavy coats and bulky boots. The sun shines, the plants are green and the sky is blue. But if you're like me, it's hard to enjoy it while you're mopping your dripping brow with your forearm and ruining yet another blouse with copious amounts of sweat. Then: Hello heat wave.
Yet another reason to lay off the perfume: researchers have found that close couples can actually smell each other's emotions. Almost two-thirds of the time, heterosexual partners could differentiate between fear-sweat, happy-sweat, and sexy-sweat. [NYDailyNews]
Sometimes a dude has problems — usually about sex or money. But since therapy's for sissies, he turns to something a little more badass: a sweat lodge. Details has the story.
Sweating when talking to a romantic partner could be a sign that he/she is not "the one". Researchers in Illinois gave dating, engaged, and married people questionnaires about their relationships and measured heart rate and skin conductance (which measures sweat) during interactions. Sweat is a sign that a person is…
The smell of man sweat doesn't have so much to do with him as it does with us. According to a study in the journal Nature, a dude's B.O. is all about perception, due to a receptor gene. So for some people, a sweaty guy could smell like hoagies, for others he could smell like urine, and for others he could actually…