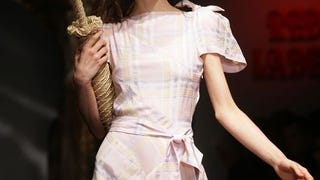 Usually I get the "story" behind a collection, but Vivienne Westwood's hick chicks and urban femme fatales, shown yesterday in London, left me scratching my head. Maybe a girl moves from the farm to the big city? And goes nuts?
Isaac Mizrahi's back after years way from the tents — as devoted to old-school glamour as ever! The show, titled "Astaire Case or Obstacle Course," involved a staircase, wind machine, jazz band and indoor rain shower. And Funny Face-worthy fashions!
Vera Wang is famous for turning women into fairy princesses on their "special day." And at this morning's runway show, she turned her models into a series of feathered, jeweled, gauzy bad fairies - and the occasional unlucky toad.
Marc Jacobs could only offer platitudes about his collection to reporters last night at the Lexington Avenue Armory. "Life is a cabaret," he said. "All the world's a stage!" But the heavily Japanese-influenced clothes evidenced far more original thought.
Carolina Herrera does ladylike and luxe like no one else - and texture and rich fabrics didn't let us forget that this is one grande dame who knows what grandes dames like!