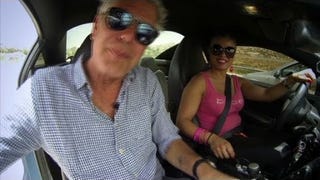 Like all Americans of taste, we can't get enough of Anthony Bourdain, so we were especially pleased to see his new CNN show "Parts Unknown" didn't skip the Speed Sisters all-female racing team when he went to the West Bank. "A car doesn't know if you're a woman or a man."
Almost exactly a year ago we first heard about Speed Sisters, the documentary about Palestinian female racing drivers and drifters. It was just an announcement really about a documentary, and sometimes these things fizzle out. Now though, it seems like it's actually on track, and it looks great.
In January, we read about a woman named Noor Daoud — born in Texas, former member of the Olympic swim team, former player on the Palestinian national soccer team — currently racing cars in Formula 3.
Pictured above is Noor Daoud. She was born in Texas, likes fast cars, but also was on an Olympic swim team and on the Palestinian national soccer team. Right now, though, she's focused on racing Formula 3. According to reports, Daoud is the first Palestinian, male or female, to participate in and win an Israeli race.…