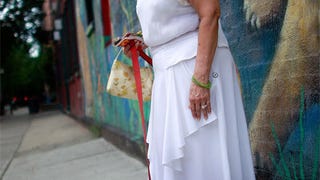 [New York, August 6. Image via Getty]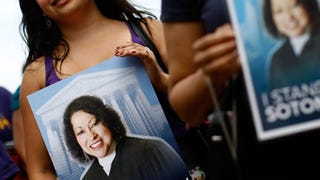 The Senate just voted to confirm Sonia Sotomayor's nomination to the Supreme Court by a 68 to 31 vote. Nine Republicans voted for her; Senator Ted Kennedy was too ill to attend. Al Franken chaired the historic vote.
[Washington, August 5. Image via Getty]
Sonia Sotomayor, dickish Senators and questions about whether judges can be wise and/or Latina (keep in mind: Republicans confirmed Clarence Thomas) without disenfranchising whiny white men remain, so we're back in the comments, when we can bear it.
A new day is dawning for the GOP! And by "new" day, I mean the same old racist stuff, via the Repubs' newest icon, New Haven's Frank The Firefighter. Gawker's Alex Pareene and I break it down, after the jump.
Are you watching Judge Sonia Sotomayor's confirmation hearings? I am! And I'm liveblogging it in the comments after the jump. (At left, Sotomayor introduces her family.)