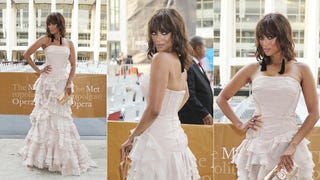 After 14 cycles, we're all very well aware of how important it is to smile with your eyes. On last night's episode, Tyra added to her tutelage, saying, "The smize is really just looking for something that you can't see."
If you happened to catch Tyra today, no you did not accidentally eat mold: it was a special show for kids celebrating Sesame Street's 40th anniversary. So everyone spoke very slowly and condescendingly, especially Tyra. (Yes, more than usual!)
On last night's episode of America's Next Top Model, the formula to the success of the entire series was spelled out for viewers: making aspiring models think on their feet. Hilarity always ensues. Gifs galore after the jump!
On last night's episode, Tyra stretched the definition of "supermodel" by introducing Jessica White as such. Jessica's credentials include spreads—not covers—in three different magazines. She seemed drunk with panel power as she told the contestants what to do.
Tyra was on Larry King Live last night, where she discussed her recent weight loss, made Larry touch her real hair, and taught him how to smize, something that can land non-models a second date...or even a job!