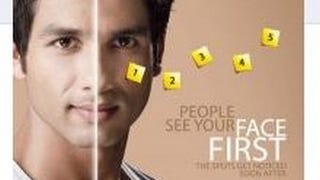 Vaseline has developed a skin lightening app for Facebook, so users can make their profile pics look whiter. Because why rely on an advertiser's unrealistic and racist image of beauty when you can create your own?
Malia Obama's "scandalous" appearance in a peace sign shirt in Italy has led way too many people to speculate about its potential political implications for nuclear disarmament rather than a decision about fashion by a kid. •
This ad, for Imedeen skin-whitening tablets, manages to be both incredibly sexist and racist at once. Click for larger image. [Feministing & Copyranter]
Women in Hong Kong are being pressured to "whiten up" by advertisements that feature Caucasian models and promote skin lightening products.