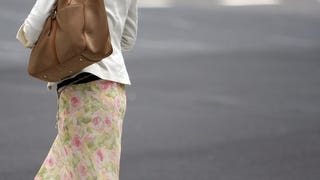 Emily May's project, Hollaback — which targets those who sexually harass women on the street — is moving beyond a blog and into the 21st century, with an iPhone app.
Details writer Jeff Gordinier tells the story of Dr. Andrew Scheinfeld, a "reserved" NYC gynecologist who has officially aligned himself with Lelo, a Swedish company that designs "gorgeous" vibrators, cock rings and butt plugs.
The brilliant headline "Restless Vagina Syndrome" had me primed to giggle at whatever Terry J. Allen wrote underneath it, but instead, I ended up fuming at Big Pharma and the patriarchy. So, you know, must be Tuesday.
We didn't know this was a job option: Mare Simone is a "sex-surrogate." "I earn my living by sleeping with other women's husbands or boyfriends," she explains. Send her your bad-in-bed boyfriend and get back a whole new man! [Sun]
I am not a fan of dry spells. I know they're supposed to give you time to think, or to grieve the end of a relationship, but all I ever do is think about how I'm not getting laid and how the loss of the relationship means the loss of access to regular sex, which means I'm not getting laid and how much of a pain in the…
That's it: We're moving to Finland. A bill is being proposed in their parliament to add an extra week to the already government-guaranteed 25 days of vacation a year plus 10 days of government holidays. The extra week is to be used for "love vacations" to reduce the divorce rate and to get the Finns to bond with their…
Hookers are everywhere these days: on the cover of the cover of the Post, in a special Diane Sawyer boasts, you find prostitutes here and there, you can find prostitutes anywhere! But seriously, folks, the nerds over at the New York Times' Freakonomics blog have an interview with two sex workers, Mindy and Dorothy,…
How many times have you been in flagrante with some dude, having a perfectly nice time, when he begins a series of inquiries as to whether you've come. Then after he's done, he looks up (or down!) at you with a look of confusion and asks, "Why didn't you finish?" Sure, many men don't know that as few as 7% of women…
Writer Colleen Oakley did a stunt for the new issue of Marie Claire magazine that involved not having sex with her fiance for one month. Oakley, you see, was trying to follow the rules set down by Ian Kerner, Ph.D., as outlined in his book, Sex Detox. Kerner recommends a celibacy program to help couples break out of…
A new study out of Cambridge University reveals why we did so well in college: The more sexual partners students have, the worse they perform in school. Also, students who have had more sexual partners tend to go to worse schools than those who have done less sleeping around. And oddly enough, the survey also found…
So, by now most of you have heard the news that on Tuesday, the Supreme Court declined to hear a case challenging Alabama's ban on the sale of vibrators or "any device designed or marketed as useful primarily for the stimulation of human genital organs for anything of pecuniary value." Today, Slate brings up an…
Something about my wide-eyed, fair-skinned appearance and hushed voice and demure demeanor has convinced everyone I know that I know nothing about doing the nasty. (I have been called the "Sandra Dee of Gawker Media" and Anna herself will not accept I am not a virgin.) So last night, I hit up the party marking the 5th…
You know pheromones? Those elusive sorta smells that cosmetics companies are always trying to bottle and sell to help us find romance through beauty products? Turns out they're the very thing that make girls have sex, well, like girls. It's pheromones, researchers have just discovered, that suppress male sexual…