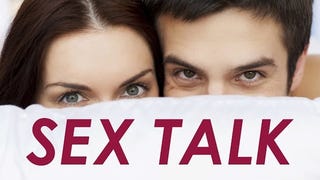 You know how you're always saying you could give your kids (who you might not have yet) a better sex talk than the one your parents gave you? Well BuzzFeed put some millennials to the test and the results are...I'm just going to say "they cut your stomach open" is maybe not the best way to describe things.
Today, Cafemom identified one of the most horrifying phenomena known to man or woman: the in-law (or partner's parent) sex talk:
Adding more fuel to the lame notion that women don't actually like sex is a new book claiming females have intercourse with men for basically every reason other than attraction.
Last night, Meghan McCain appeared on Colbert to explain why Republicans who insist that the government interfere with the ability of same sex couples to marry don't epitomize the Republican ideal of small government.
Yesterday, NPR had an interview with the legendary Canadian sex expert Sue Johanson about sex ed for teenagers as well as changes in sexual appetites in the general population. Sue noted that abstinence-only educations are pointless since "every single sex educator does emphasize abstinence" and she emphasized waiting…
Baby hedgehogs arrive early in Britain due to warm weather. Awww. • Moms-to-be with gum disease have a higher chance of suffering from preeclampsia, premature births. • Two-year olds likely to have smaller vocabularies if dad is depressed. • Duh: kids in stable post-divorce families have less negative long-term…