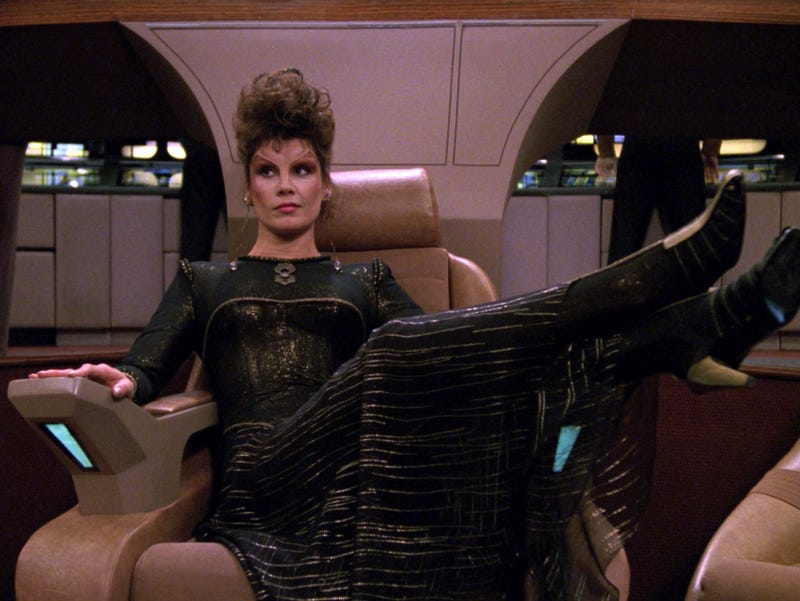 Star Trek: The Next Generation kept boldly going to some pretty amazing places, fashion-wise, after its first few wild seasons. We never again saw quite so many bonkers glued-on costumes, but there was still a lot of WTF. Here's our tribute to TNG seasons four through seven.
Much as we love the present trend of sticking drug-molecules on everything from coffee mugs to t-shirts, we crave something new. Fortunately, science-themed artist Delftia has a novel take on subtle drug jewelry: pendants that replicate spider webs spun under the influence of psychoactive drugs.
Behold the pinnacle of human invention. Sports Illustrated had the fantastic idea to shoot supermodel Kate Upton into the sky and then film her while she floated around in a bikini. Now we all know what Kate Upton looks like at Zero-G in a swimsuit. The answer, unsurprisingly, is great.
Whether you're looking to cosplay Daenerys or just dig Margaery Tyrell's sense of style, Tumblr wind-uptoy Healthy Hair Plus has directions on how to style your hair like the ladies of Westeros.
Clearly, Hailee Steinfeld knows how to do Comic-Con right. The Ender's Game actress showed up to this years con with all sorts of delightful fan art on her nails. We spy comic book "Pows," Lichtenstein inspired eyes, and oh heck yeah — her thumbs are the Dragon and Salamander army sigils from Ender's Game. This…