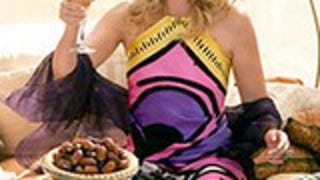 Good news: SATC2 is kicking ass in the foreign box office. Bad news: Medical professionals are concerned because Samantha, a breast cancer survivor, is on hormone therapy — a treatment which increases the chance of the cancer's recurrence. [Wrap, CNN]
Recently, Ms. Bradshaw traveled to the Emirates for a glamorous vacation with a few pals. Here, she recounts her thoughts about her time in Abu Dhabi.
Sex and the City 2 simply wasn't going to win. When it comes to having a big-opening weekend, it was doomed even before the dismal reviews started pouring in. Here's why.
"Samantha's vagina is doing fine. She rubs yams on it, okay? She takes 48 vagina vitamins a day. It accepts unlimited male penises with the greatest of ease. Now let us never speak of it again." [The Stranger]
OMG! The fashion! The real fashion! And the "inspired by" fashion! Glitter-dusted gold pumps! The famous white Halston Heritage dress! As Stephanie Rosenbloom writes in the NY Times:
This video reveals what men really think while watching the SATC 2: Rise of the Manolos trailer: basically, it's not that different than what you're thinking. Well, except for the blow job thing. [Mediabistro]
There were rumors that Sarah Jessica Parker would be the face of Halston, the brand people just can't keep themselves from reviving. And she wears Halston in the poster for SATC2. But is she actually seeking a design role? [E!]