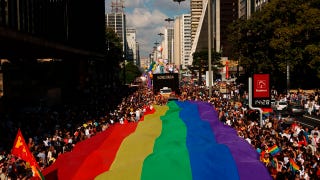 If the mayor of Sao Paulo, Brazil signs legislation adopted by the city council, the city will start celebrating Heterosexual Pride Day every year in December. Carlos Apolinario, who authored the legislation, explains that it's "not anti-gay but a protest against the privileges the gay community enjoys." Apolinario is…
Sao Paulo fashion week hosts models like Gisele, and brands like Alexandre Herchcovitz and Rosa Cha. But if it paraded one spring trend, it's hats. Big hats, small hats, feathered hats and Lego hats: the Brazilian runways had them all!
A 20-year-old student was expelled from Brazil's Bandeirante University (Uniban) Sunday after hundreds of her classmates rioted over the length of her skirt.
[São Paulo, October 12. Image via Getty]