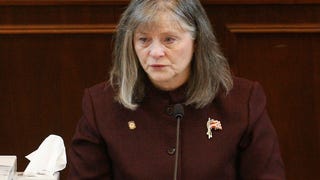 Three years ago, Oklahoma legislator Sally Kern announced that homosexuality is "the biggest threat our nation has, even more so than terrorism or Islam." More recently, she gave a speech suggesting that the number of incarcerated African-Americans was "because they don't want to study as hard in school." She also…
Up until recently, Oklahoma legislator Sally Kern was most famous for her homophobia and creationism. Now she's added racism and sexism to the mix — just for variety, we assume. Her "apology" for remarks on affirmative action is also a treasure.
There's a showdown unfolding in Oklahoma's House District 84, between Brittany Novotny, the state's first transgender political candidate, and Sally Kern, infamous for believing that LGBT Americans are more dangerous than terrorists. An interview with Novotny, after the jump.