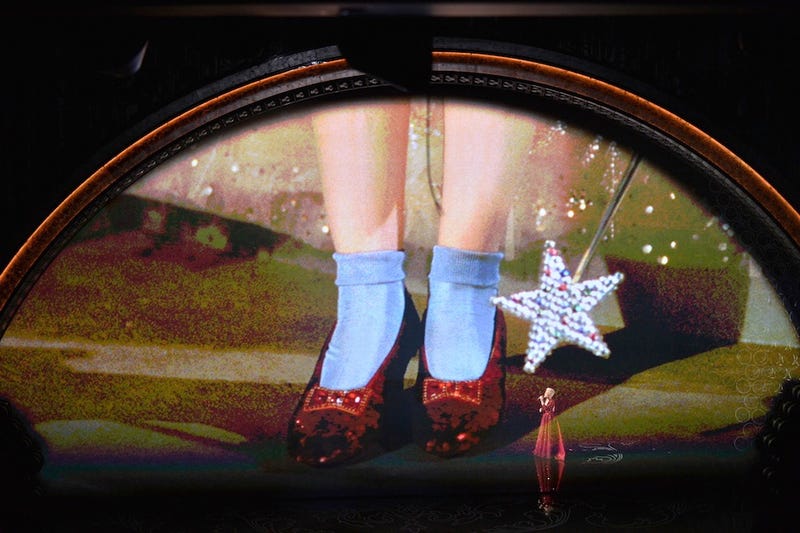 Someone please get Dog the Bounty Hunter on the line. A $1 million reward is being offered for information that will lead to a missing pair of ruby slippers from The Wizard of Oz, reports AP. The pair was stolen from a museum in Judy Garland's hometown of Grand Rapids, Minnesota. Aside from the missing pair, three…
On December 16, Dorothy's ruby slippers will be auctioned off as part of a Hollywood memorabilia sale. The shoes are one of four known surviving pairs made for the 1939 film, and were actually worn by Judy Garland. Now they can be yours! If you have about $3 million to spare.
Remakes and reimaginings and retellings? Oh, my. As I have mentioned once or twice, The Wizard Of Oz is one of my favorite films. But I'm worried for the Oz projects in the works.
Fashion week officially starts today, but it kicked off last night with an event at Saks: To celebrate the 70th anniversary of The Wizard of Oz, various designers created Swarovksi-crystal encrusted shoes inspired by the Ruby Slippers. The heels are on display in the windows and on the shoe floor in the store; later…
The Wizard Of Oz, one of my favorite movies, celebrates its 70th anniversary next year. The New York Times reports that Warner Brothers and Swarovski have teamed up to create a promotion to benefit the Elizabeth Glaser Pediatric AIDS Foundation — in which 20 designers recreate Dorothy's ruby slippers. The shoes will…