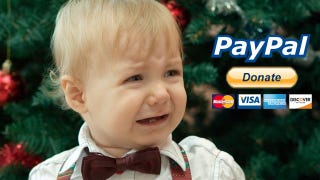 The internet isn't always the kindest place, but this year Regretsy.com tried to use its powers for good rather than evil by donating money to buy Christmas presents for the children of readers who are going through hard times. The campaign was so successful that Regretsy determined it would be able to send the…
Urban Outfitters is denying that it copied Truche designer Stevie Koerner's state-with-a-heart-in-it necklace. The company, which is owned by prominent Republican donor Dick Hayne, points out that many designers have made jewelry that includes a heart and a representation of a geographical place, and that the…
An Etsy user posted a request for a painting of "Lady Gaga in one of her bizarre outfits hunched over a unicorn carcass blood around her mouth" in the Alchemy section. And then artist Rose Briccetti made it happen.
Have you always dreamed of looking like a corpse? Now you, too, can be strangely pale and weirdly glowing (aka "drop-dead gorgeous"), thanks to Etsy-user Twimom and her "Cullinize-me" photoshopping service. [Etsy]
The crew at Regretsy is tired of seeing crappy crafts pop-up on the DIY crafting site: "While we have appreciation for people with real talent," they say, "we can't help laughing at the ones who don't have any."