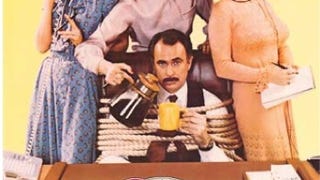 The good news: the number of women starting their own businesses is on the rise. The bad news: the number of words describing this process is also on the rise, hence the birth of "fempreneur," "femterprise," and "domestecutives." [TimesOnline]
If you've opened a women's magazine recently, then you probably know what's in this season. "Investment" fashion! For the new economy, editors and luxury advertisers have been throwing around terms like "value," "quality," "green," "key pieces" and "timeless" as though they had some, well, timeless meaning.
The April Marie Claire is all about the most over-saturated trend in lady mags today — being an eco-friendly recessionista through the acquisition of more things. Oh, the irony.
At the turn of the 21st century, writes Salon's Rebecca Traister, "Americans wanted to eat well, dress fine and live lavishly." And glossy magazines delivered. But with the economy in a downward spiral?
Recession, schmesmession! The February issue of Teen Vogue encourages you to drop oodles of cash on shredded jeans and canvas tote bags. Get Mommy's credit card: Your piddling babysitting dough won't be enough.
People whose job it is to shill luxury brands are flipping the fuck out right about now. According to Guy Trebay's panicky piece in yesterday's New York Times, everything, everything is on sale. Barneys New York had a "designer freak-out sale." Saks dumped Prada wallets — usually kept under glass — into…
To heck with Descartes: nowadays, it's more like, "I am on Wikipedia, therefore I am." So how is it then that the most topical and relevant of all neologisms, "Recessionista," does not have its own Wikipedia entry? In our estimation, the omission of this handy "Recession-Fashionista" hybrid from our virtual Herodotus…
The new issue of Vivre, the exquisite luxury magalog whose tagline is "Living With Style," arrived in mailboxes this week, shilling expensive shit right as the economy goes down the toilet. While the point of Vivre is luxe, not affordability, I wondered: What could one buy with just $100? Anything? Flipping through…
From the ashes of the economy rises a chic new phoenix: The Recessionista. "While the fashionista may have locked herself in the vault with her tiaras, her younger, hipper sister-recessonista-is at the mall finding designer threads (or diffusion designer threads) at discount prices." Recessionistas take advantage of…