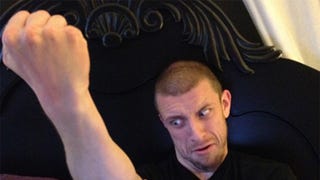 Real is a book about boxing and fame and broken dreams. It's also a book about sex. Dirty, disgusting sex that's full of grit and gravel and animalistic pounding (with cocks only). Sex that's so ridiculous, that one GoodReads reviewer had to share it with her boyfriend. His reactions? Priceless. And how could they not…
For their Real Housewives of D.C. audition tape, the Salahis filmed themselves at a palatial Virginia mansion, claiming it was their home. However, they never owned the property, and the people who do were shocked when contacted about the ruse.
Today in Tweet Beat, members of different Real Housewives cities are getting friendly, millionaire matchmaker Patti Stanger gives ridiculously sexist dating advice, and adult performer Mary Carey is oddly offended by nudity at her gym.
Adam Lambert put an end to the speculation about his sexuality by going out to a nightclub last night with his boyfriend Drake LaBry. The two held hands and occasionally kissed.