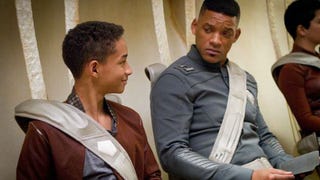 Some awards ceremony is going on in Los Angeles right now, with a bunch of people all dressed up fancy, handing each other shiny little gold men and thanking long lists of people you've never heard of ever. But I'm not sure why anyone is even bothering with all that, since the most important film awards have already…
Forget everything going on in your world right now, because the most important event in Hollywood is upon us—the Razzie Award nominations are here!
Last night, Razzies were awarded to recognize all things shitty about the last year in Hollywood. From the boresome foursome of the Sex And The City 2: Surprise! They're Racist!, who were collectively awarded the coveted Worst Actress trophy, to Ashton Kutcher, the Marlon Brando of sucking, who was awarded Worst…
The Golden Raspberry awards are "presented in recognition of the worst in film." Sex And The City 2 has been nominated for seven of them.
Sandra Bullock's very good year doesn't mean everyone has forgotten about All About Steve. "She could be the first person ever to win a Razzie and an Oscar in the same weekend," says the Golden Raspberry Awards' founder. [AP]