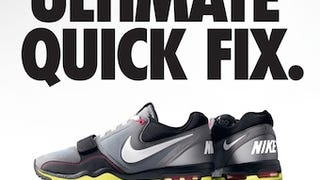 "Your suspicions are correct," emails Nike's PR. "The ad you questioned is not a Nike ad. It appears that the person who created it took the copy (with a typo) from our 2005 campaign." The current ad is body-part free.
This Lay's ad out of Uruguay has a seriously edgy premise: that a chick might actually be into fútbol, and perhaps even more shockingly, know what she's talking about.
The new Huggies ad campaign is almost like the baby answer to Kotex's tampon ads: replacing dreamy reverence with humor. Too bad ABC rejected the word "pooping"! Which even the Times will say.
Click to viewYou already know that people have trouble saying the word vagina, and that euphemistic tampon marketing is absurd. The first round of Kotex ads indicated that their agency actually knew that too. The latest round is even better.
"Dancing long-haired dog repairs grade school boy's broken heart with help from crunchy and possibly drugged snack foods" is just one of several titles I tried out for this video. But really, just see it for yourself. [BuzzFeed]