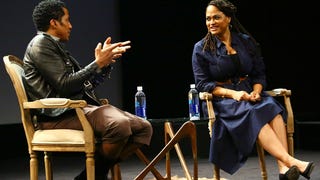 It's no secret that Ava DuVernay's Selma, very likely the most important American movie of 2014, also served as a litmus test for how the Hollywood establishment views racism, how it views women of color directors, and how it views honest art made about black people. (It also further solidified that the Oscars are…
The past week has been rough for Iggy Azalea. Not only has she been duking it out with Azealia Banks, but this weekend, she was the target of hackers threatening to supply proof of an alleged sex tape to punish her for "misappropriating black culture" and disrespecting #ICantBreathe protesters (they have since…
Leonardo DiCaprio, he of the preternaturally youthful face, this weekend overcame the many ageist barriers facing men when he celebrated his birthday with Kanye West, 2 Chainz (who described DiCaprio as his "brother") and Q-Tip – all while wearing a newsboy cap. Gangs of New York 2: Rap Edition anyone?
Today in Tweet Beat, Kelly Cutrone gets an ominous total at checkout, haters gonna hate, and it's Thong Thursday again for Coco.
Today in Tweet Beat, Lil Wayne is Tweeting remotely, while Q-Tip is sorta biting Kanye's Tweet style, and sorta failing at it.