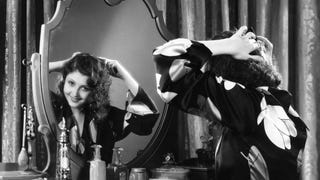 Check it out: the Golden Age-era Paramount publicity department just HAPPENS to have caught another new actress at her toilette!
"Lindsay Lohan is the star of the film, but she was a no-show at the Los Angeles premiere of The Canyons," proclaimed the Daily Mail proudly on Wednesday. "So in her absence, her co-star Tenille Houston made sure all eyes were on her with a racy outfit choice." While Tenilee Houston's cleavage is "ample" and stunning,…
German porn star Carolin Berger was only 23 when she died during a breast augmentation operation earlier this month. Based on news reports, she sought out so many surgeries to stay on the media's radar screen. Doesn't seem worth it.
The latest entry in the What's Really Wrong With Lindsay Sweepstakes: she's a fame-whore who's abusing the court system to generate publicity.