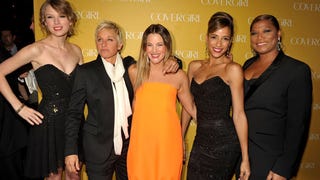 Plenty of the luminaries on CoverGirl 50th-anniversary red carpet were lovely. Then there was Drew Barrymore's neon sack...
Lindsay Lohan had a deposition scheduled today for her lawsuit over allegedly hijacking an SUV with three men and a bag of cocaine inside. Linds showed up an hour and a half late, then left without exiting her car.
"What I am impressed by most is how forthright she is about her sexual orientation, despite [having a] large, broad, national, daytime network audience that certainly must include more than just a few homophobes."
[Los Angeles, February 8. Image via INF]
Sometimes in this life, one finds oneself asking the Big Questions. Like, is it appropriate to critique the outfits of celebs attending a party in support of Prop 2, the Prevention of Farm Animal Cruelty Act? And then one thinks, yes. Yes it is. But we'll show our extreme magnanimity by not having an "Ugly" category.…
Look at Minnie Driver! So fresh and crisp and smiley in her yellow gown! How modern! How cool! Pretty looks like hers were a-plenty at last night's Emmy Awards. But that doesn't mean that there weren't some major missteps, too. Our take on the good, the bad, and the ugly of Emmy fashions, after the jump.