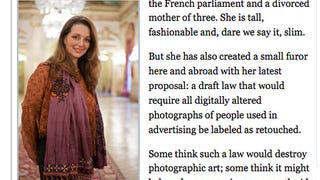 So you know how the French are contemplating legislation that would require Photoshopped images to carry a disclaimer? The New York Times spoke with Valérie Boyer, the French parliament member who proposed the law. Her angle is: She's a mom.
As previously mentioned, lawmakers in France and Great Britain are pushing for disclaimers to be added to Photoshopped images. If you extract the quotes from the piece in today's New York Times, you get a sense of the conversation:
French politicians have proposed a law that would involve stamping a "health warning" on photographs of models that have been Photoshopped to be more appealing. Would that really solve anything?