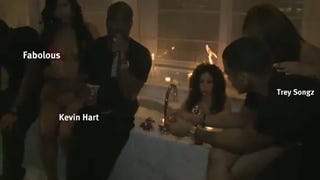 It's all very well and good to put on your bikini and pose in a bubble bath at a live-streamed Dirty Money bash while Fabolous, Trey Songz and Kevin Hart hang around, but watch out for those candles, girl.
"Celebrity women get arrested at night, in their dresses; men get arrested after fights, when they're messes." This puts fun-loving famous women at a disadvantage compared to male peers, or says Virginia Heffernan on demonizing fun women. And?
Today's Lindsay-media drama focuses on her "daddy issues," and asks, if Michael Lohan humiliated his daughter and tried to profit from her fame, "why does she still love him?" Ugh. Lay. Off.
Last night, there was an opening party for the new Sanrio Luxe store, in New York City's Times Square. In attendance: Lisa Loeb, Heatherette designer Richie Rich, noted socialite Tinsley Mortimer, drag legend Lady Bunny… And Hello Kitty herself, wearing a gorgeous kimono! On display were all of the items one will be…
Kids! As I may have mentioned, I am somewhat disillusioned by fashion week parties. But last night, out of pure love, I attended the opening party for AmericanPHOTO's "first ever fashion issue" and, more to the point, Nigel Barker's fashion photos, "Moon Warriors." The party (co-hosted by Elle) was at Bloomingdale's…
Fashion week officially starts today, but it kicked off last night with an event at Saks: To celebrate the 70th anniversary of The Wizard of Oz, various designers created Swarovksi-crystal encrusted shoes inspired by the Ruby Slippers. The heels are on display in the windows and on the shoe floor in the store; later…
Party animals — in this case, asses — should watch themselves this week, as we've got some spies watching them. Our main Mata Hari is the "Unconventional Conventionaire", a convention goer who cares less about The Party and more about the parties: she's got her eyes and ears at the ready, her ass on the dance floor…
When you think about it, the pairing of Patricia Field and Payless Shoes makes perfect sense. The stylist for Sex And The City was once known for her crazy, colorful eponymous downtown store where clubkids and drag queens could shop for the kind of mesh/pleather/day-glo ensembles not found at Banana Republic. It was a…
A bunch of "party girls" went on Tyra to talk about their heavy drinking and late nights out, but Tyra turned it into a therapy session of rehab, with counseling from Dr. Drew and reformed porn star Mary Carey, acting as sponsor. We were supposed to view the three party girls as having serious problems, but one girl,…
It's Spring Break in America, and you know what that means... Millions of college students are getting wasted. And, more often than not, this is the time that young women go from concentrating on history or communications to studying Sex Appeal 101. LA Times columnist Megham Daum went to Cancun a few years ago, to…