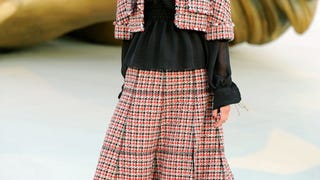 Karl Lagerfeld's Chanel couture show was a mish-mash of conflicting styles — but rather than being surprising and awesome, like a peanut-butter-banana sandwich, it was mostly ugly and retch-inducing, like a red wine milkshake. Here is the full Nanny-grunge-Thirties-matador horror.
John Galliano's garden grows very, very psychedelic, if the designer's latest couture collection for Dior is to be trusted. Poufy petal skirts, shocking colors, and floral embroideries aren't exactly new ground for Galliano, but the pollen sure is intoxicating.
Jean-Paul Gaultier is the kind of designer who seemingly lives to take us all on a whirlwind global tour, with corsets, and chinoiserie, and chiffon, and cording. Come along!
The Christian Dior couture show in Paris today was a beautiful, if somewhat familiar, ahistorical jaunt. Part part 80s lingerie-as-outerwear, part stiff New Look peplums, and part 30s bias satin slips, the collection was topped with Stephen Jones' extraordinary hats.