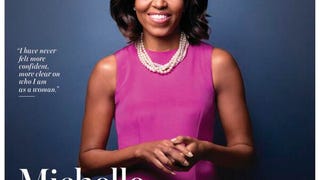 FLOTUS heads up Parade magazine this week, making it clear that jewel tones are her still her power colors. She also says she got rid of the bangs because "it's hard to make speeches with hair in your face!"
Our first lady and first lady of vice (ow!) looking oh so fine on the cover of the magazine that comes inside the newspapers. I love Parade because they once published a question of mine about Kim Basinger's wedding ring in their front "ask questions about celebrities" section. No shame, I was 13-years-old and I love…
Parade Magazine, home of Howard Huge and smartest woman alive, Marilyn Vos Savant, recently released the results of their "Summer 2009 Pop Culture Poll," and while the results aren't surprising, one of the categories certainly is.
Some are unimpressed by what the IQ queen has done with her life. Shouldn't she be curing cancer?