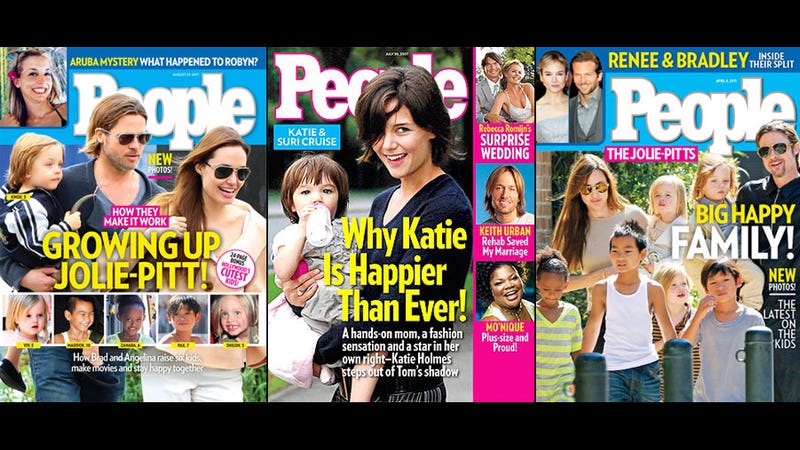 On the heels of ET's announcement that they would no longer be publishing unauthorized paparazzi photos of celebrity children, two other outlets have joined the cause: People magazine and Just Jared.
This morning, Alec of Clan Baldwin and his fiancée Hilaria Thomas floated down to City Hall in a blissful cloud of love, on a mission to obtain a marriage license. After being issued the necessary paperwork, Baldwin left the building and immediately socked a Daily News photographer on the chin. (Pix of the incident…
There are several things to take note of in this thirty-two-second teaser clip: Former Disney star Britney is wearing a shredded and distressed T-shirt featuring a skull with Mickey Mouse ears. The marquee on the movie theater is advertising a faux-sequel to her 2002 movie Crossroads. The multi-colored manicure trend…
This week, Shia LaBeouf was caught splashing coffee on a paparazzo's back, then running down a D.C. street. He looks pretty childish, but note that shots of paparazzi harassing him while he reads at a cafe have been edited out.
A bill moving through the California Legislature would impose harsh penalties, including possible jail time, on paparazzi caught driving dangerously. Jennifer Aniston and Reese Witherspoon have voiced their support, but critics say there are already laws against reckless driving.
Be sure to check out the profile of the first true paparazzo, Ron Galella, from the Guardian. And don't forget the slideshow, which includes a snap of a young, pillow-lipped Angelina Jolie. Emily Nussbaum writes: "These days, Galella feels vindicated as an artist, a pioneer in a 'magic medium'. His prints are in MoMA,…