Last night's episode of RuPaul's Drag Race was a recappy-clip show, but it did reveal some valuable information: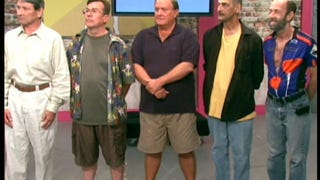 Last night, the challenge was for the contestants to transform men of a certain age in to "drag mothers." With guest judges Debbie Reynolds and Cloris Leachman, the episode had a bawdy retirement home vibe.
Last night's episode involved a book-related challenge, and authors Gigi Levangie Grazer and Jackie Motherfucking Collins were guest judges!
Last night's episode involved a burlesque challenge, which meant that the Queens had poledancing lessons… and were judged by Dita Von Teese.