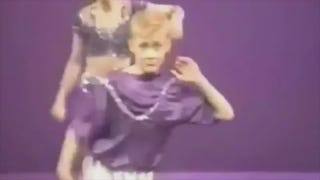 Once upon a time, there was a young boy named Little King Young Goose, who had a dream of Hollywood and apparently unlimited swag. As he toiled in Canadian obscurity—home-schooled by his Mormon mother after a little knife-throwing incident, and finding solace in the heavily female world of ballet—this "Ryan Gosling"…
An Ontario Catholic school has gone one step further than Tennessee's idiotic "don't say gay" bill — they've banned rainbows.
Stacy Bonds was arrested for no apparent reason, then taken to jail—where officers roughed her up, searched her, cut off her bra and shirt, and left her to languish in a cell half-naked for hours. Luckily, there's video.