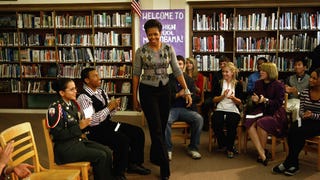 Obama notes she and Barack are always juggling the work-life balance, "making sure that home is home and that we're present and accounted for, for our kids - not as Michelle and Barack Obama, but as mom and dad." [BusinessWeek]
After reading the NY Times' just-published "In First Lady's Roots, a Complex Path From Slavery," I felt conflicted. There is a lot to absorb. A lot to sift through. Michelle Robinson Obama's ancestry is complicated, glorious, and quintessentially African-American.
Obama's historic visit to The Tonight Show last night went pretty well. He told cute stories about his daughters, but some cringed when he likened his shitty bowling score to the Special Olympics.
• Police in Nigeria are holding a goat in custody on suspicion of attempted armed robbery. Vigilantes turned the beast in, claiming it was a robber who used black magic to transform himself. •
Despite his cynically pandering choice of Sarah Palin, John McCain is having trouble securing the female vote, as Obama has opened up a 19-point lead among women voters, according to Time. The Pew poll has Obama up by 17 points, and the Boston Globe points out that the groundswell of support for Obama among women is…
Michelle Obama co-hosted The View today, and the ladies were way excited about it (just check out Sherri Shepherd's grin in that still). Whoopi was so psyched that she wet herself—when she knocked over her mug of water. No fights broke out between Elisabeth and Michelle, and it was all very ladylike and cordial. Joy…
Perhaps inspired by recent evidence of her husband's powerful effect on women voters, Michelle Obama is taking a more prominent role in her husband's campaign, which means: keeping the sluts at bay! Without once uttering a certain word rhyming with "Blenna", Lady Obama assured a room full of female campaign donors…