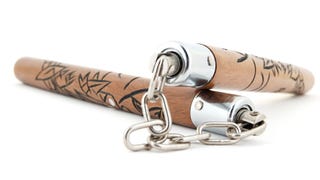 Nunchuks really don't get used often enough, it seems, which is a shame because Michelangelo was clearly the most rad Ninja Turtle. Then again, people would probably only deploy their nunchuk skills when faced with a really threatening adversary, which is what happened when woman in Winslow, Maine was forced to fend…
Chris Colfer, aka Kurt from Glee, is a national treasure. He can sing, he can dance, he can take Andy Richter's eye out without even trying.
The couple having telepathic sex actually isn't the weirdest part of this clip from the 1993 Japanese film Female Ninjas: The Magic Chronicles. That would be when the woman spews deadly "vagina bubbles from hell."