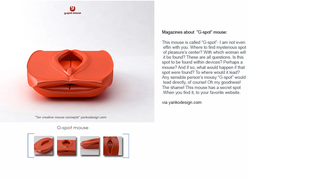 Just in time for your holiday gift-giving, it's the G-Spot: a mouse that's shaped like a vagina, with a scrolling clitoris, and a button in place of the eponymous spot. With all the hand-wringing over women orgasming less during casual sex, perhaps these mouses can provide an anatomy lesson, kinda, for hapless men and…
I love mice, they're so cute and smart, and they're much maligned and feared by humans even though we're the ones who terrorize them. Anyway, let's take a minute to appreciate how great these little ones are, and how we are all just crazy animals trying to survive on planet earth. I don't know what I'm saying but I…
What would you say is the very worst part about this mousepad? The fact that the mouse blocks her lovely animated face? That she's wearing such a flimsy, low-cut tank top in an office? That her "boobs" are actually filled with gel to support your wrist in an ergonomic position while you work, er, surf porn at work?…
Much unlike many a magazine editor who recommends you buy all sorts of crap that they most likely got for free, your Jezebel staff doesn't get jack shit (other than books, unsolicited). And that's how it should be. But on our own time, in our personal lives, we still buy stuff. So this is Worth It, our daily…
A flight from Katmandu to Bangkok was cancelled when a mouse scurried out of the plane's pantry. Luckily, this happened while the plane was still on the ground, so the rodent did not cause havoc in the air. However, the plane will not be able to take off again until the mouse is found.
While crossbreeding genetically-altered mice just, "to see what would happen," Japanese scientists created a mouse that tweets. This may help explain the origins of language, but we'd still like them to stop screwing around and get back to work.
In this video, a cat and a rat cuddle, play, and lick each other, seemingly unaware that they are supposed to be mortal enemies.
David Beckham has a new endorsement deal: Armani underwear in the United States! And you were afraid he and Posh might go broke... [Vogue UK]