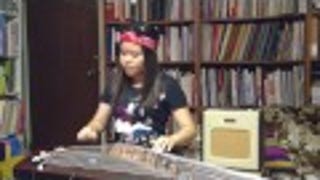 Vancouver musician Michelle Kwan tears into the Guns n' Roses classic on the guzheng. The "guitar solo" part gave me chills! Play, lady, play.
Shockingly, nobody is looking for any more crack party planning advice from Pippa Middleton since her book Celebrate made a fart noise that echoed throughout the publishing industry (although tips like "Make ice!!!" are extremely helpful), her following two book offers—one on wedding planning and another on…
...at least, that's what Barbra Streisand and her fellow guests would have us believe. While we're on the subject: why was Anna Wintour there?
Karl Lagerfeld is directing a silent movie. Obviously. "Expect a fast-paced, laugh-packed and loose interpretation of Gabrielle Chanel's adventures between 1913 and 1923." Riotous, we're sure. [WWD]
It's probably not a happy thing that I was this psyched that ESPN's "ESPY Awards" took place last night in L.A. But it's been so long since we had a real live awards show to critique! Of course, ESPYs are a little off the beaten track, in that you get a liberal dose of athletes sprinkled amongst the usual Listers.…