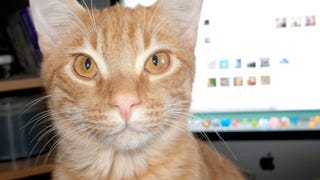 Hortense is taking a much-deserved day off (though she's left some things with which to amuse yourselves, as you'll see). So today, I'll be your guest editor! Your regularly-scheduled programming will commence shortly. [Image via Susan E Adams]
What a way to end a week! I'm sorry to be the bearer of bad tidings but, as of next Friday, Megan Carpentier will no longer be working as an editor on Jezebel.
Megan is observing Senator Hillary Clinton's Senate confirmation hearing right now, meaning that her news post will be delayed. She does have this to say about Chelsea: "OH MY GOD her hair is amazing."
Was holiday travel a bitch for you this year? It was for me. In fact, the only thing (besides a stiff drink) that helped me endure my joke of a JetBlue flight out of JFK was the on-board entertainment system. Specifically: Animal Planet. I bring this up for two reasons. The first: 2 hours into my six-hour marathon…