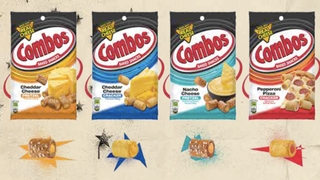 Every year, Combos, "the hearty, pretzel and cracker snack made with real cheese" (that looks exactly like dog food), partners with some intrepid researchers to bring us the manliest cities in America. This year, number one is Oklahoma City, OK — up two spots from last year, congratulations guys!!! — with Columbia,…
Ever since I was told my writing was male, I've been concerned that I might be a man. Today, I decided to take a quiz.
"'We live in more of a pussy generation now,' Clint Eastwood told Esquire magazine last year." So begins Katherine Miller's rant on — you guessed it — the decline of manhood. Did you know that guys wear scarves now?
Jeff Gordinier's piece in Details on "The Remasculated Man" is less obnoxious than it could be, but it still reveals how difficult it is to talk about modern masculinity without falling back on lame testicular cliches.
A new, highly unscientific study from Matchmaker.com, Date.com and Amor.com found that men are more likely to admit to being "depressed and upset" after a breakup. This somehow prompted Joanna Molloy for the NY Daily News to write this: