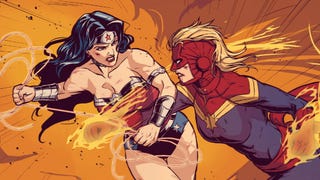 Tons of people are saying a woman can't star in a superhero movie. (Just like they probably said an interconnected superhero universe couldn't happen at the movies.) Stan Lee says there's no need. But a good superheroine movie is necessary and doable. Here are eight ways to make a movie about a female superhero movie…
Matt Damon's better (?) half is strapping on some plastic wings for the role of Batman in Warner Bros.' Man of Steel sequel. Twitter is going wild debating whether or not he's the best choice, but it's happening so we're all gonna have to down some wine and deal.
Now that The Man of Steel has set a new record for June movie openings, Warner Bros. is rushing ahead with plans to create a DC Universe on screen. Which means one thing: we'll finally get a big-screen version of Wonder Woman, and she'll probably be created by Sucker Punch director Zack Snyder. That's a terrible idea.
Porn parodies aren't really for titillation, right? They're for watching after senior prom with a bunch of friends you'll eventually drift apart from because the only memory you'll share after another five years will be, "Hey, remember when we all drank grenadine spritzers and watched that stunt fulfill his heroic…