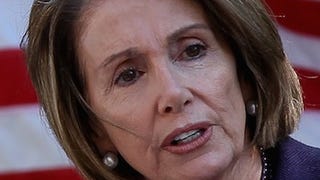 "I have deep emotions about the American people," said Nancy Pelosi. "If I were to cry for anything, I would cry for them and the policies that they're about to face." Burn, Boehner, burn.
Since January 1, 161,203 ads have aired targeting Speaker Nancy Pelosi. They cost a total of $65 million, a record-breaking figure, according to CNN. That managed to topple Pelosi's majority, if not her leadership. Money was less effective elsewhere.
A few hours before announcing her plan to run for House Minority Leader, Speaker Nancy Pelosi had a chat with Washington Post columnist E.J. Dionne Jr. Her take on the Republicans' relentless attacks against her? "Because I'm effective."
Last night, outgoing Speaker of the House Nancy Pelosi granted her first post-election interview to Diane Sawyer. "I'm a professional," she said, though Sawyer kept trying to get her to talk about her bruised emotions.