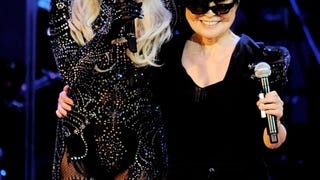 Jean-Paul Gaultier, on Lady Gaga: "I think she's talented and very inpolitically incorrect, which I love. But I also think that she read up on Madonna's life and learnt it like the Bible." [Telegraph]
Model Coco Rocha, 21, has announced her engagement to boyfriend James Conran, a 29-year-old muralist and interior designer. We wish them the warmest congratulations. [OhSoCoco]
In case you might have forgotten their existence, the Kardashian sisters would like to remind you that they have not only a Bebe clothing line, but also a jewelry collection. It is, says Kim, "inspired by our Armenian heritage." [People]
Today on GMA, Lady Gaga and Cyndi Lauper discussed their work with M·A·C's VIVA GLAM campaign against HIV/AIDS. Then, Lady Gaga uttered words no producer wants to hear: "I don't know if this is too much for morning TV, but..."
Today in pointless clothing lines of the stars: Miley Cyrus and Max Azria's Wal-Mart collection! The digs look well worth every penny of their sub-$20 price point. [Lucky]
On last night's episode of RPDR, the challenge was to create a campaign for Mac's Viva Glam makeup, the proceeds of which go to an HIV and AIDS fund. The show ended in tears.