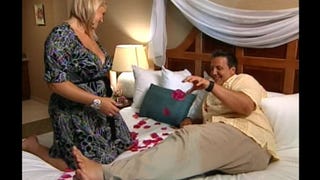 Last night, on the show formerly known as The Fatchelor, Puke Luke flipped the script by asking Malissa if his weight was okay with her.
If you've been keeping an eye on The Fatchelor since the beginning, you've noticed that even though there were ladies crying about being fat, big or "plus-sized" at the start, the four remaining women are large-breasted, hourglass-shaped stunners.
The more I watch the show previously known as the Fatchelor, the more I want the women to get the hell out of the house and away from Luke. Not to mention the show's producers.
More To Love, the show previously known as The Fatchelor continues to be a cringe-inducing, shudder-worthy and embarrassing experience, because its plus-size contestants are treated like "special" freaks of nature who need our pity.
Last night's premiere of More To Love was even more disturbing than anticipated, not because overweight women were being exploited, but because the star, Luke, is a jackass.
More To Love premieres tomorrow night, and USA Today, Salon and People all have recent critiques of the reality show. Each piece acknowledges that there are good and bad aspects of the program some are calling "The Fatchelor."
When we first heard about reality dating show More To Love, we were skeptical. Then Megan auditioned, and we were uneasy. LA Times writer Maria Elena Fernandez visited the set, and her report leaves us with mixed emotions.