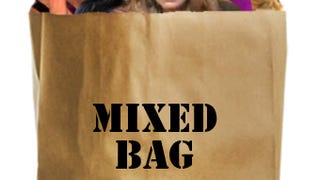 In this week's compilation of pop culture crap, Dr. Phil teaches us how Rock of Love has negatively affected our nation's youth, Bill O'Reilly's feud with Snooki, and expectant mothers doll up for delivery.
Last night on Lopez Tonight, Nene Leakes discussed the very personal arguments with her husband featured on Real Housewives, and responded to whether or not producers of the show goad her into sharing her private business on camera.
This analysis of the gender, and separately, race of late-night talk show guests over six recent weeks is rather illuminating. The Daily Show had the whitest guests of all, and along with Jimmy Kimmel and Lopez Tonight, the fewest women.
Last night on Lopez Tonight, the cast of Jersey Shore played an enlightening game of "I Never" with Kathy Griffin. Among things, we learned that all of them have hooked up with someone famous, and that Snooki has been vajazzled.
Snooki, The Situation, and Pauly D made the PR rounds this week, appearing on The Tonight Show, The Jay Leno Show, Lopez Tonight, The Wendy Williams Show, and more. Find out what we learned about America's favorite guidos.
Last night on Lopez Tonight, Mariah answered the question that her Precious character Mrs. Weiss wouldn't reveal: Her "color". (Mariah fans already know her ethnic lineage verbatim, since she talks about it as much as she does butterflies.)