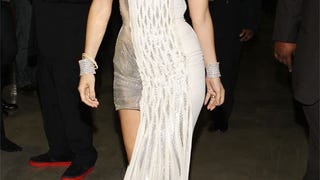 [Los Angeles, January 31. Image via Getty.]
Conan O'Brien and NBC are still negotiating the terms of Conan's exit from The Tonight Show. One of major points of contention: Who gets custody of Triumph the Insult Comic Dog, Pimpbot 5000, and the Masturbating Bear.

Although Us Weekly is confirming that Jennifer Lopez is indeed with child, the singer/actress sure wasn't saying — or showing — during her appearance on last night's Late Show With David Letterman, no matter how much the late-night talk show host (gently) pushed and prodded. We kind of admired her for it! Clip above.