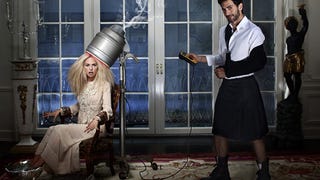 For September's Harper's Bazaar, Rachel Zoe poses for a spread based on a literal interpretation of one of her favorite phrases—"I Die"—in which designers like Marc Jacobs and Vera Wang elaborately (and fashionably) kill her.
"The only improvement made in douche bags in twenty years," trumpets this (possibly NSFW) absurd ad for a vaginal irrigation system, oddly named the "Dainty Maid." [Copyranter]
On last night's season finale, Rachel admitted to her doctor that she hasn't really been eating, which is making her vertigo worse. Rodger—who correctly overuses "literally"—stepped in to restructure his wife's business to help improve her health.
On last night's Rachel Zoe Project, the team (minus Taylor) went to Paris fashion week, where Rachel "literally" felt like dying and "literally" felt like "a cow about to moo." She also went shopping (duh) and toured Coco Chanel's apartment.