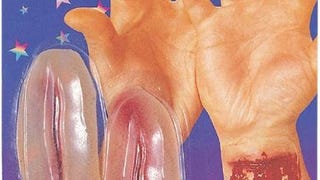 Insert [heh] your own bloody [heh] jokes. [Buzzfeed]
This video, of a girl identifying Star Wars figurines with her mouth, just validated the many painful hours I've spent in German class. Because there is nothing better than her "talent" - except maybe the blindfold. Or the presenters. [BoingBoing]
Marketers are getting better at capitalizing on the idea that vaginas are gross. First there was labia dye, and now San Francisco's Stript Wax Bar is offering the "Vajacial," a facial for your vagina.
We posted about the product which brings a "youthful" pink color to your labia; SJ, the blogger from I, Asshole actually tried it. Yes: She applied it to her ladybits. She writes:
Anti-aging mania and marketing: Not just for your face anymore! Now there's My New Pink Button, genital cosmetic colorant. Or, as our tipster calls it: Pussy dye. So, are you a Marilyn, a Bettie, a Ginger or an Audry?
As a form of protest, a group of prostitutes in El Alto, Bolivia have sewn their lips together...uh, the ones on their faces, that is. It's a (very dramatic) part of the hunger strike they organized in order to convince the mayor to reopen the legalized brothels and bars in the town's red light district, after he had…