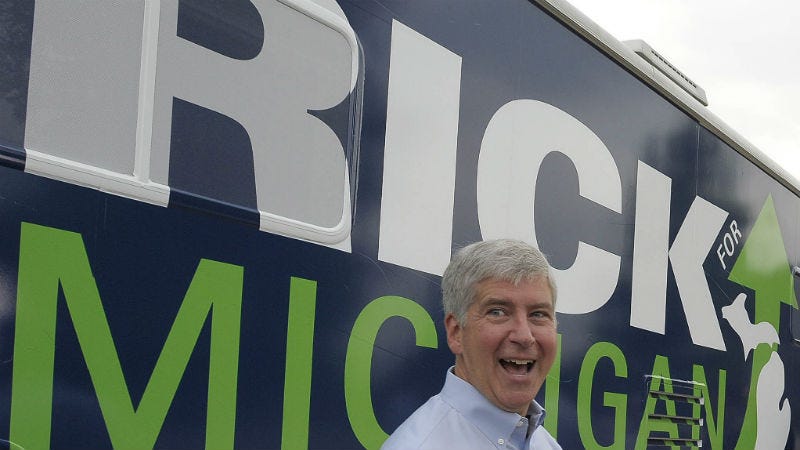 The Flint water crisis just gets worse and worse. This week, Michigan Governor Rick Snyder is using taxpayer money to pay lawyers nearly twice his state's average to save his ass. This is the same man who sacrificed a whole city's well-being and tried to delay installing new pipes in Flint to due to cost concerns.…
As the water crisis in Flint, Michigan continues to unfold, revealing a pattern of corruption and callousness for the city's residents, other communities around the nation struggle with the lasting effects of lead and uranium poisoning.
Two cross-breed dogs in the Flint, Michigan area have tested positive for lead toxicity, the Detroit Free Press reported. One is a pet and the other is a stray.
To help battle the public health crisis affecting the people in Flint, Michigan who have been knowingly poisoned by public officials who wanted to save their state some money, Cher has teamed up with Icelandic Glacial to provide more than 180,000 bottles of clean water to the city's residents.
Lady cosmetic enthusiasts, drag queens, Robert Smith: our lipstick has been compromised. Good Morning America, in a recent attempt at shattering our fragile dome of innocence and blissful ignorance, has conducted tests on 22 types of lipstick and discovered that over 55% of it — no matter the color, brand or…
Got bunions from heels? Lead in your lipstick? According to a story on MSNBC, women (and men!) have risked their health to look good for centuries. Ancient Egyptians had famously black-rimmed eyes, which were obtained by using a mixture of metal ores, lead, soot and fat. Pink eye, anyone? Says dermatologist Dr. Joel…
Moe is being interrogated by El Al as I type this, which means that her stock market/foreign policy-illuminating "Evening Purge" will be on hiatus until she returns from The Homeland next week. (My homeland, she keeps telling me. Not hers. Whatevs.) And so, back by not popular demand, my Bush-hating, animal-loving…