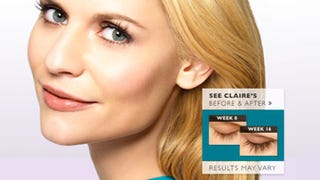 The prescription serum Latisse is going to be tested on patients with alopecia. For some reason we're picturing lashes on their heads, which surely isn't an option. Right?
Claire Danes and her spooky, enhanced spiderleg eyelashes will soon be staring down at you from ads for Latisse, the eyelash-growing goop that has this totally minor side effect where sometimes it permanently changes a user's eye color. [AOL]
In "Bad Ideas": Lindsay Lohan tweets about "my 6126 full collection COMING OUT! all clothing." [New York]
Has anyone else noticed that Brooke Shields is a full-time spokesmodel again? She has so many endorsement deals right now—Tupperware, Coppertone, Latisse, World Gold Council, Colgate, milk, Fertility Lifelines, and more—that her career has come full circle.