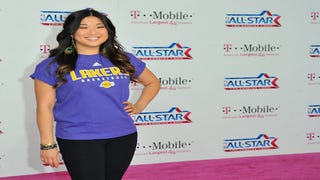 What event could bring together Steven Tyler, Ellen Pompeo, Jenna Ushkowitz, Dustin Hoffman and Ciara? Why, the 2011 NBA All-Star Game — a master-class in magenta-carpet style.

Did you go to the Critic's Choice Movie Awards last night? We wanted to, but our evil stepsisters made us stay home and scrub the floor instead. Luckily, we have photos to show us what we missed!
If you believe the evidence of the Us Weekly "Hot Hollywood Style Issue" celebration, at Drai's Hollywood at the W Hollywood Hotel, "hot hollywood style" involves a lot of sparkle, a ton of minis, and the occasional sexyface!
Remember how sources said Ashlee was knocked up and then Pete Wentz said she wasn't ? Now sources say Ashlee Simpson is pregnant and will get married next month at a private residence in Southern California. [People]